But we figure it's the right thing to do. You see, when we married four years ago, she brought home a kitten (born the same day we were married). She said "what are we going to name it?" He said "I don't know!" (If y'all knew him, you'd know that was his favorite thing to say.)


That's when we knew we had a problem with naming things. For the cat's name we choose K.C. That, boys and girls, stands for Kitty Cat. We rest our case.

We really need help! I think the cat has a personality problem (see picture to right, actual artist's rendering) or something now related to its name. We would rather the kid be a little more stable.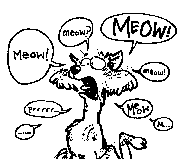 Actual drawing of what the cat does all day. (Well, this is the prettier part.)